The winners of the 8th call have been announced. Below you can find out a little bit about each of them, and what services they hope to provide throughout their incubation period with ODINE.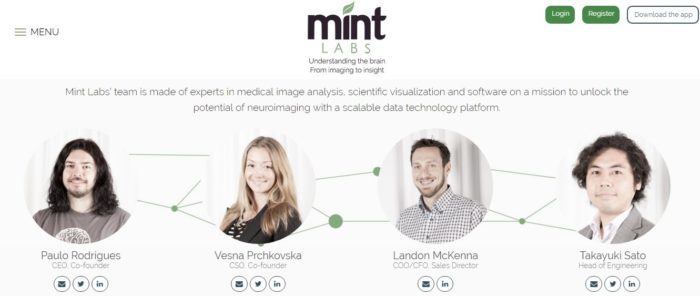 Pictured above: some of the team from new startup Mint Labs.
Air and Space Evidence – This startup was founded in 2014 and provide three core services centered around evidence from state-of the-art commercial satellite technologies operating from space. The satellites we use can provide images of large areas of land, as well as having the ability to zoom in to see objects as small as a manhole cover or post-box. All of this is done remotely.
Derilinx – The company provides high-quality Linked & Open Data solutions, paving the way for evidence-based decision making, cost savings through greater organisational efficiencies, and improved use of business intelligence.
Guide2Property – This company creates personalised and tailored property suggestions for people looking to buy/sell property. They use open data, combined with a personal real estate profile which is unique to the user.
Idalab – This company provides three main services to provide clients with a competitive advantage in their field. They firstly engineer new products and research, secondly process improvement and data-driven automation, and finally help clients navigate the world of big data, machine learning and AI.
IPlytics – This company aims to be the worldwide entity to provide data and analytics on technologies and markets that can be accessed via one single tool: IPlytics Platform. They ultimately aim to transform the future of market intelligence and radically change the way companies are interacting with business-critical information and data.
Mint Labs – Human brain imaging research reveals that brain conditions are multifaceted, with different symptoms that can be traced to different networks of brain regions. This company offers a wide spectrum of technological solutions targeted to understand the brain, whether human or animal.
Prospeh – This company allows individuals to easily find out the origin of food. Their application, OriginTrail, can trace any packaged product back to each respective farm. They also offer the ability to buy fully traced foods including meat and dairy products.
Sinergise – This company builds large turn-key information systems primarily in the fields of agriculture and real-estate administration. They focus on advanced applications for distributed GIS editing.
Tilde – Tilde is a leading European language technology company. To support languages in the digital age and enable multilingual communication, Tilde develops custom machine translation systems, online terminology services, mobile translation apps, and content analytics tools.