Air & Space Evidence investigate and analyse data to help authorities tackle illegal waste dumping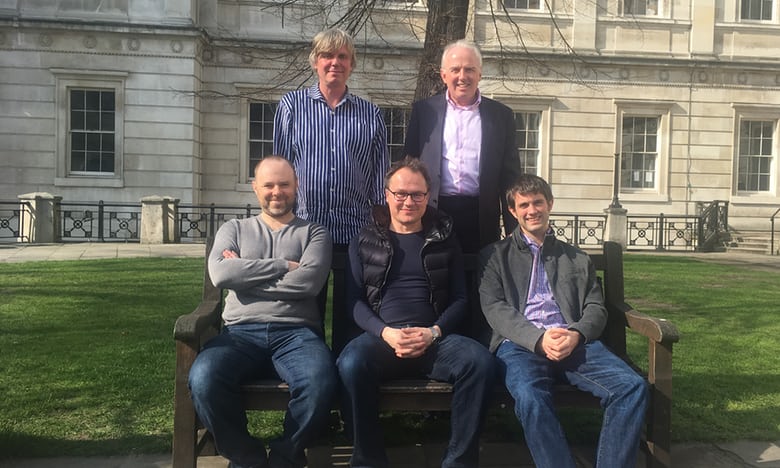 Company Name: Air & Space Evidence
Location: Chalford, Gloucestershire
Age of business: 3 years old
Team: Ray Purdy, Ray Harris, Jon Carver, Peter Hjerp and David Tellett
ODINE funding: €100,000
What does Air & Space Evidence do?
We offer an intelligence gathering and analysis service to governments, investigating and providing evidence of one of the most significant environmental problems: unlawful waste dumping sites.
The idea is to enable successful early regulatory interventions – at the time when problems are manageable – allowing governments to catch criminals in the act and drastically reduce costs and environmental hazards.
How did you meet?
We are an academic spin-off company. The two founding directors, Ray Purdy and Ray Harris, met while working at University College London. Our other director, Jon, came from a military and intelligence background; he contacted us after we launched.
Where did the business idea come from?
We had worked on several academic projects looking at satellites and waste crime detection as far back as 1998. The commercialisation barrier back then was satellite data cost and availability. The business case for the idea was realised as a result of the availability of easily accessible open data, which is appealing as it is free – something that's attractive when looking for clandestine waste sites spread across vast areas.
Are you working with any other partners?
In the ODINE project, we collaborated with the Northern Ireland Environment Agencyin conducting trials to demonstrate proof of concept. We have also been working with the Scottish Environmental Protection Agency on developing further trials in another waste crime monitoring project. We are shortly going to be partnering on a new European Space Agency-funded waste crime monitoring project with Telespazio VEGA, another space company.
How has ODINE helped you so far?
Before ODINE, we knew that as a company we had lots of potential. Fast Company named one of our previous concepts one of their 12 World Changing Company Ideasfor 2015. But we jumped from one idea to another – reacting to large numbers of enquiries, rather than having a focused commercial plan. The ODINE funding enabled – or rather made us – direct all our attention to developing just one thing.
What advice would you give to other companies pitching to ODINE?
First, really understand the problem you intend to solve. We would suggest you spend as much time as you can before launching, talking to the key people who might use your product or service. This will allow you to clearly demonstrate that what you're offering is needed, and will often open up new opportunities and ideas.
Second, seek feedback from other business people on things that will often be unfamiliar, such as monetisation strategies, as this can be really useful. We received free mentoring from a fantastic local businessman, which helped us when putting together our application to ODINE.
Why would you encourage big business to buy into the open data movement?
Big data offers big opportunities for business innovation through new information services. More and more government data is being published on an open data basis so there is an increasing amount that is available free of charge. It makes a lot of sense to examine the opportunities to integrate open data into business. To put it simply, it can offer a massively more cost effective and legally simple solution to the problems companies are trying to solve.
To read the full story, click here.