The Open Data Incubator for Europe (ODINE) is a 6-month incubator for open data entrepreneurs across Europe. The program is funded with a €7.8m grant from the EU's Horizon 2020 initiative, and has had a plethora of success stories since it's launch. Now as we see the project drawing to a close it is important to reflect on the benefits of the program and to ask ourselves, exactly what impact has this project had, and how does this affect the open data movement?
The Growth of ODINE's Funded Companies
To assess what kind of impact the project has had we must first look towards the growth of the companies themselves. Over the course of the project ODINE has funded 57 companies over 20 months. Each of these companies represent a range of research areas and markets. Each of these companies have contributed to the development of an open data ecosystem in Europe which is underpinned by economic, social and environmental benefits. In a recent review of the company's experiences participants stated that as well as having an overwhelmingly positive influence on the entrepreneurs, the project also resulted in accelerated time to market, improving business ideas, and improving inter-company team skills.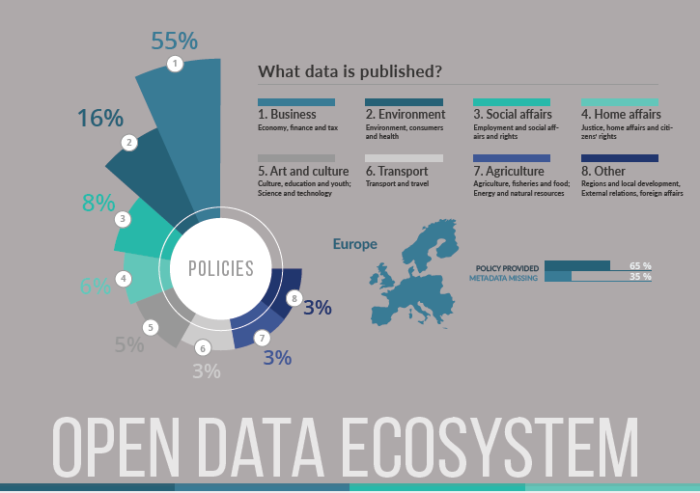 Above: A breakdown of the Open Data Ecosystem across Europe.
Based on the IDC's forecast impact model it is estimated that the company's cumulative revenues will exceed €110M in the period 2016 – 2020. The average revenues per company are predicted to fall around the €1M mark: this means that the average revenue per employee about €55,000. With these kinds of figures each single euro invested in the ODINE project will have generated €14 revenues by 2020. Alongside growth in revenues, the project is predicted to have created more than 784 jobs across Europe, thus accelerating employment and number of users compared to a counterfactual scenario that predicted growth without the presence of the ODINE project.
Successful ODINE Business Models and Plans
In addition to funding and a variety of marketing and social resources, ODINE companies were also able to have their business plans analysed by leading business professionals during their 6-month incubation periods. Analysis of 40 funded companies and 10 non-funded companies demonstrated that by addressing this kind of analysis they were able to form important objectives for their companies. The influences of mentors and analysis further shaped the business models and plans of the companies, allowing a high level of achievement in meeting their target objectives. The success of the companies in meeting their objectives has resulted in an accelerated time to market – supported by ODINE mentors – and an increased likelihood of securing external funding from other sources.
The Benefits of Open Data to Businesses
The ODINE project set out to highlight the importance of open data in the European market. It has succeeded in this by supporting and inspiring a host of entrepreneurs, start-ups, companies and employees. Each of the 57 startups and SMEs leverages 2 or more types of Open Data, with a strong concentration of interest in geospatial/ mapping and environmental data. Another priority of ODINE companies is the emerging sustainable or low carbon economy, with several companies focused on energy saving, environmental monitoring, smart mobility.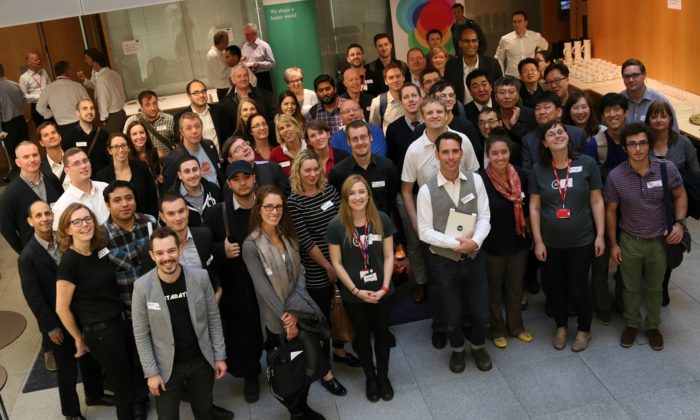 Above: Members of ODINE's incubated companies gather to discuss the future of Open Data.
Uniquely, the project found that startup companies use a wider variety of open data than young or mature companies in the incubated groups. These types of startup are referred to as 'experimenters'. Experimenters are are named for their ability to combine different types of open data, from different sources and in different formats, to produce marketable solutions. Additionally, the project found that a majority of companies had a strong focus on the emerging needs of new and traditional sectors. This means that by taking a vertical focus, ODINE companies are at the forefront of open data developments.  
There is also a positive correlation between the level or maturity at country level of the Open Data market (measured by a Capgemini study) and the number of ODINE successful applicants by country. This demonstrates that a rich open data environment provides favorable conditions for innovators in this field, resulting in an increased likelihood of improving the usability and availability of open data sets through policies, as well as their likelihood to spark private initiatives.