Idalab's intelligent zoning engine uses different data sets to aid companies and institutions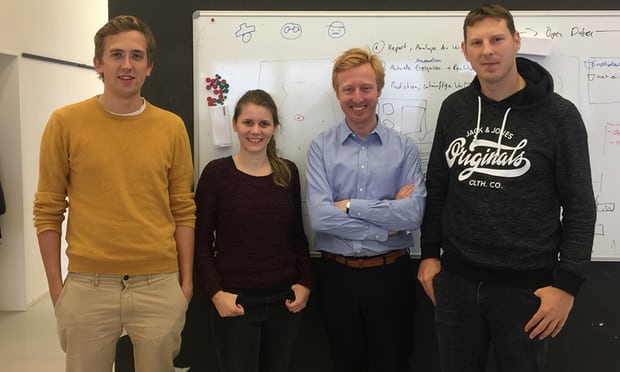 Company name: idalab
Location: Berlin, Germany
Age of business: 3 years
Team: Paul von Bünau, Daniel Kirsch, Antje Relitz, Niels Reinhard
ODINE funding: €95,000
What does idalab do?
We are a data science company. We develop a wide range of data products, all powered by machine learning and artificial intelligence. With our intelligent zoning engine, we have an algorithmic core which allows companies and institutions to intuitively solve a wide range of zoning problems. It enables them to designate different areas for specific uses – be it retail, schools, voting districts or distribution.
How did you meet?
Paul started idalab two years ago, carrying out project-based work for large corporates such as Deutsche Bank and Deutsche Bahn, as well as the vibrant startup scene in Germany. Later, Antje, Daniel and Niels started working at idalab.
Where did the business idea come from?
Zoning is essentially a mathematical optimisation problem but rarely approached that way by decision-makers. Paul, having two kids himself, was well aware of the challenges regarding zoning for primary schools. Together with Daniel, who has an extensive background in the open data community, they developed the first prototype and conducted a pilot with local school authorities. As it became clear that the technology was scalable beyond this specific case, the team applied for the ODINE accelerator.
Are you working with any other partners?
Our zoning engine – depending on the area of application – always incorporates different open and proprietary data sets. We also cooperate with companies which provide custom data sets.
How has ODINE helped you so far
The ODINE programme allowed us to find product-market fit and bridge the long sales cycles, which often exist in the B2B space. Moreover, we got great advice from the ODINE mentors and good insights into how to spin our business model towards success.
What advice would you give to other companies pitching to ODINE?
Having a great idea is just the beginning: spending sufficient time to think about product-market fit and the right sector for the product rollout is key. Also, clearly articulating why the business idea would not work without open data and how business success will contribute to the open data community is a crucial component of the application.
Why would you encourage big business to buy into the open data movement?
Large companies often lack the understanding of how their existing operations are already positively informed by open data. Sharpening that understanding is key to decreasing the reluctance which often exists when big companies think about active participation in the open data movement.
What's the key trend in open data at the moment?
We believe that finding ways to encourage administrations to publish the open data needed is high on the agenda of open data proponents. Showing authorities how their own work is positively impacted by open data – and the software tools that heavily depend on it – will be essential to maintain momentum.