'Open data' has become something of a buzz phrase over the past couple of years. Businesses and governments alike have focused their attention on accessible and free data which may have the power to save lives, improve quality of life and make the world a more transparent place.
Media outlets are brimming with positive stories and outcomes, but to really understand how this movement is gaining momentum we need to take a look at the companies on the front line. Such companies provide free and accessible data using a bottom up approach in order to really make a difference in the world. Such companies are the focus of the ODINE project, which has resulted in the selection and mentoring of 30+ innovative and unique enterprises. With each ODINE start-up having specialty in particular areas, for instance developing open legislation, providing farming and air quality data, there is a range of applications and services which are all based on and around open data.
OpenSensors, in particular, are a company currently in their incubation period with the project. They focus on the Internet of Things, commonly referred to as 'IoT'. This is a network that is made up of physical items which have been rooted with technology, thus allowing the collection of data. Generally the technology takes the form of software, electronics, high tech wiring and accurate sensors. The company provide a series of features such as a real-time firehose which distributes data, device management and storage for easy authentication and historic data, hardware agnostic technology to improve connectivity with a range of devices, and data exchange which allows the construction of products and insight to fuel open innovation. A diagram is show below providing a simple outline of the devices and connectivity been devices, from which sensors can gather data (source: ZDNet, 2016).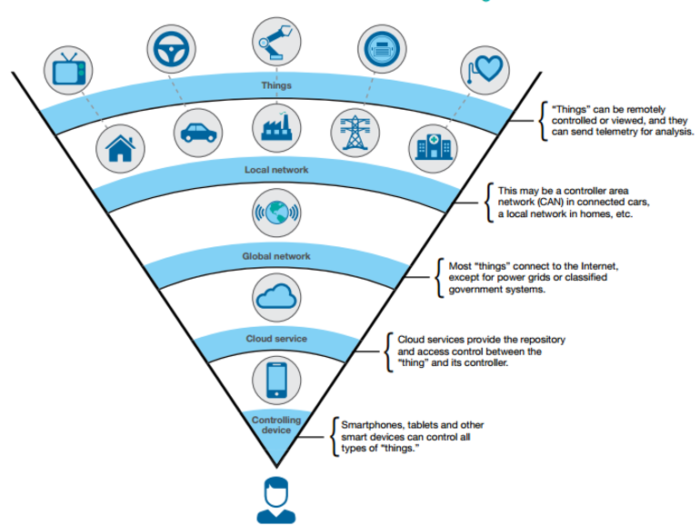 So, how is IoT changing data and their uses during the information age?
Firstly, IoT aims to avoid looking at data in isolation.
In order to utilise data to their full potential one must integrate data across devices, applications and formats. By evaluating data in such a way, and by making them open and accessible, companies who integrate and publish these sorts of resources produce a much more insightful and qualitative service. Exchanging data at an IoT scale is a service that OpenSensors make available. Their data exchange allows companies or individuals the opportunity to share, build and understand new content with the ultimate goal of cultivating innovation. This is an important aspect of using and relying upon open data as often a culture of isolation is embedded in businesses which can be difficult to change. 
This is not an entirely new concept however; throughout history many iconic products were created by collaboration between data, knowledge and businesses. The difference is that IoT enables collaboration much more cheaply, highly optimised, and accessible to smaller businesses and individuals who may utilise services from a bottom up approach. For example, Herelabs, associated with OpenSensors, provides small localised datasets regarding water and environmental air quality in certain regions. This is valuable for coastal communities who may rely on fishing, and allow for the optimisation of shipping duration or identifying better areas to drop nets.
Secondly, IoT is changing the perspectives and best practices of businesses.
IoT seeks to improve data in a number of ways which expand upon integration alone. Sharing expertise, following schema, and developing better standardisation  and open-sourced legislation are all integral to the evolution of free and accessible services. Not only is this supported by OpenSensor's data exchange, it is also in part supported by the Storage and Real Time Firehose functions. These respectively allow an individual or business to store historic data for visualisations and analysis, and to distribute own data in real-time for the benefit of others.
This aim is really at the core of IoT and open data: it's all very well having a large volume of data but only actionable data has value. Globally 20+ billion devices are predicted to be in circulation by the year 2020, which, if even remotely accurate, would mean that data from such devices are going to increase significantly. Sensors constantly produce data, but it's up to the business to understand and change their models to get the most out of that data.
Finally, IoT is developing more flexible ways to organise data.
Due to the huge amount of data which are generated and collected from organisations globally, businesses are becoming more reliant on software and information management. This is especially important as by 2020  there is predicted to be 4 billion connected people (see image below).  NOSQL databases like MongoDB are being increasingly used over more traditional databases such as RDBMS because of the flexibility they offer in data storage. The better the organisation, the more usable the data can be when analysed and integrated suitably. This makes hardware agnostics, device management, and storage useful features to utilise from OpenSensors: data and its storage can be tailored to individuals or businesses to get the most insight and application for a tailored application.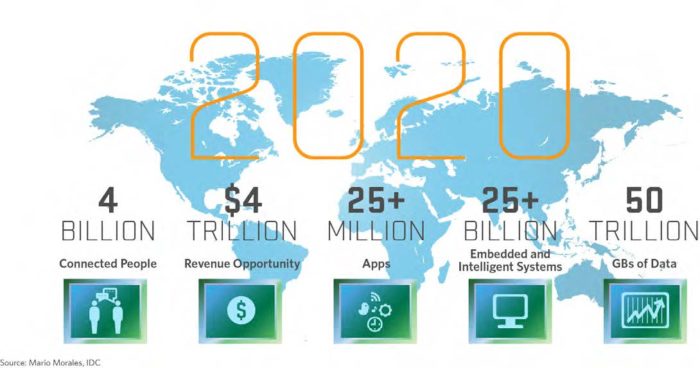 The expanded functionality of services and sensors means that the Analytics of Things, or AoT, is a requirement for IT infrastructure and the development of innovation. Reducing the gulf between innovation, which leads to the creation of new services and products, and IT infrastructure and storage is an area where companies such as OpenSensors are making an impact. OpenSensors, as well as other companies working with ODINE, provide a means to be more flexible with data across devices in a reliable way which ultimately lessens the difficulties for individuals and business to do this on their own.
The future of IoT?
Although IoT is shaping data and their uses in business, a side effect of this is that data analysts must become more skilled to continue to make IoT data valuable. Standardisation, best practices and open legislations must similarly develop and be employed by companies and services in order for the movement to continue to not only be sustainable, but also to be impactful in the wider world. Ultimately, a bottom up approach for the use of open data is important to change the perceptions and applications of IoT and their impact tangibility on an everyday basis for the individuals who utilise it. Companies such as OpenSensors who develop services and infrastructure to aid with this development are cornerstones for businesses who are breaking into the open data market, or hoping to streamline their business model with the help of IoT.