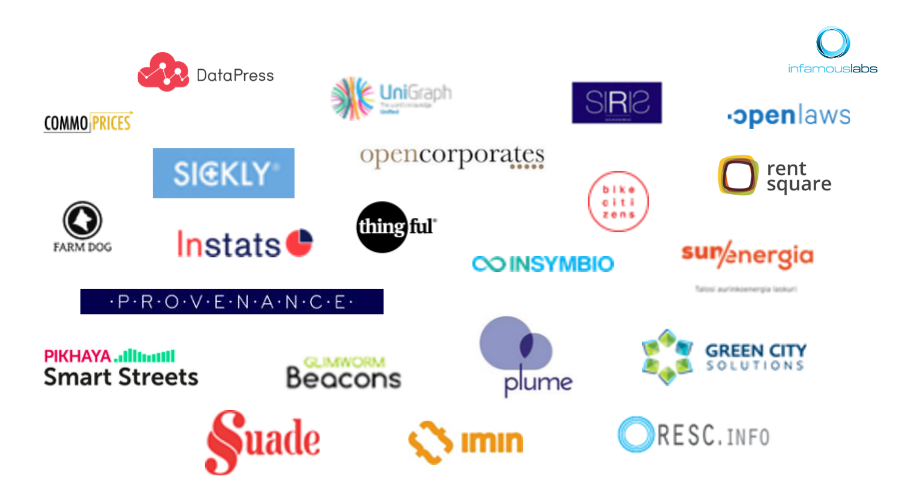 The Open Data Incubator for Europe has accepted over 30 companies from 24 countries, generating more than €1m
After only one year of operation, ODINE – the Open Data Incubator for Europe – has already proved groundbreaking. The programme has received over 600 applications from every European state and accepted more than 30 companies from 24 countries – generating more than €1m in additional investment, sales, and jobs. As the programme enters its final phase, Dr Elena Simperl, ODINE Director, considers why open data is such a valuable commodity and reflects on how ODINE has provided small companies with an unusually successful route to market.
ODINE is funding more than 50 new startups and SMEs over a 15-month period, ending in September 2016
"ODINE is a very ambitious programme," says Dr Elena Simperl, Director of ODINE and Associate Professor of Electronics and Computer Science at the University of Southampton. "But we have already seen great success in fostering innovation – and much of this should be attributed to the Europe-wide competition framework designed by the ODINE team."
Funded through the EU's Horizon 2020 initiative, ODINE is led from the University of Southampton with significant partners including the Open Data Institute, Open Knowledge Foundation, the Open University, Telefonica, Fraunhofer, Wayra and the Guardian. ODINE's Europe-wide rolling competition provides grants and support for innovative business startups, focusing particularly on activities that have a triple bottom-line impact – People, Planet, Profit.
"We wanted to see open data being used in innovative ways," says Simperl. "But we defined the competition in a way that ensured it was inclusive. Open data is so versatile and provides great added value when it is used and re-used in combination with other data sets in unexpected scenarios.
"We targeted sectors and business ideas that have seen some degree of digital transformation, and we've aimed to attract companies that work for the public good – exploiting social entrepreneurship, or building social models in areas that have a relationship to the environment and societal change."
Startup companies often struggle to get funding for these ideas at an early stage, and the ODINE proposition adds further value: "We offer financial support and services, for which we want to see great impact," says Simperl, "but we don't want equity". In addition to funding of up to €100,000, successful startup companies receive access to a wide-ranging support package as they grow their open data idea into a successful business. This includes peer-networking, mentoring, technology support and access to data sets, as well as contacts to VC investors and the media.
Demonstrating how data-driven technology and open data are used in the market, and finding out how best to support these new businesses are key aims of the project. "We get to work with SMEs and learn about the problems they face every day," says Simperl. "The companies are doing well and we have put together a team of very young people who run the incubator. We've been able to reflect on our decisions and make some changes as we go into the second phase of the competition."
Not surprisingly there have been more applicants to the competition from countries whose governments have already invested in open data. The UK has seen a particularly high number of applications but the ODINE team has been active in identifying areas for potential growth. Resources have been devoted to increasing numbers of applications from countries such as Germany and Spain which were slow to take part in the early stages.
ODINE is part of a wider EU programme which aims to create a viable and sustainable Open Data ecosystem within the EU.
The fact that the programme has a two-monthly call-cycle provides a great opportunity for responsive iteration, according to Simperl. "It wasn't easy at the beginning," she says, "since it's a very short turnaround time, but we aimed to be like a startup ourselves, and to learn quickly and implement changes rapidly. We knew that the successful companies needed access to cash quickly – waiting for a response over six months would be too long."
All the companies funded are still operating successfully and demonstrating huge amounts of innovation. Among winning startups, Simperl cites as examples Plumelabs, based in Paris, which provides information about urban air pollution by building wearable personal sensors to track pollution wherever you go; SIRIS Academic, based in Barcelona, is disrupting the consulting industry by providing data-driven strategic consulting and organisation development services to higher education and research institutions; and Viomedo, based in Berlin, offers patients easy access to clinical trials.
Mentorship is an important part of the programme and each company funded has a mentor and adviser within the ODINE team. An alumni network is currently being created so that companies that have graduated from the programme can help other new startups and enable the programme to become self-supporting in the future.
As the funding competition draws to a close – with two further evaluation rounds to take place in July and September, the team are thinking about the next stage. "We'll spend some time in 2017 evaluating our ecosystem in order to consolidate the lessons learned," says Simperl. "We've already begun to think about recommendations, particularly on the sort of innovation projects that should feature in Horizon 2020 and in national programmes."
However, despite the large amounts of open data now available, Simperl warns that not only is there much more that could be released, but that much currently available needs updating, or is of varying quality. "Some countries could do a lot more," she says, adding that although it seems that open data no longer has the buzz of a new topic, it's still important for governments and companies to understand that open data should be business as usual.
Simperl herself has worked in linked data and semantic technologies since her undergraduate years and observes that the open data movement has largely been created from that community, led by the inspiration of Tim Berners-Lee. 'Linked Data is one of the most powerful properties ever proposed enabling the publishing and also the use of data,' she says. She came to the University of Southampton in 2012 partly, she says, because it is the best place in the world to do Open Data. She soon began to work with the UK's Open Data Institute, led jointly by Sir Tim Berners-Lee and Sir Nigel Shadbolt, both professors at Southampton. Simperl observes that ODINE can be seen as a European counterpart to the start-up programme which the ODI is running in the UK.
Simperl now leads an MSc programme in data science at Southampton, which she says provides a link between open data and data science. "Open Data delivers the resources and the data we need to teach data sciences concepts and technology," she says. Through ODINE and through her research and teaching, Simperl is keen to ensure that businesses should think about how the release of their data can help other businesses and other activities. "They shouldn't hang on to their data," she says. "They can open them and the information can be used and re-used in really innovative ways. We're seeing some of this happen but we want to see a lot more."
"At this pace of change companies need to have the resources to innovate in a targeted way and better use of open data can provide this. In ODINE we've already seen a more strategic approach to providing open data and to using and exploiting it. We're testing innovation frameworks and seeing what works best."
"We've seen success," she adds. "We're among the first in the world to operate in this way but we want to make sure we have a clear impact assessment study with tangible results that will provide coherent methodology to help every government in Europe.
"We want to empower the message that it's worth investing in open data – we want governments and other organisations to see the huge value that has come from the open data they've released and that will come in the future."