The rapid success of the open data movement in recent years has partly relied on the uptake and utilisation of data from around the globe. Organisations, researchers and governments alike have gradually become more transparent and have released large quantities of data for anyone to access. The creation of data science and open data laws by influential political figures has similarly supported the movement.
These individuals and organisations hold a great deal of power, both in their countries, but also in the international community. It comes as no surprise to anyone that recent political developments in the US have now shifted to the forefront of global media, and we find ourselves asking what would happen if the US laws surrounding open data were to change with the election of Donald Trump?
Certainly, there has been a large amount of speculation from the international community regarding all aspects of the new administration. New media reports, protests and celebrity opinions are reflecting on Trump's first week in presidency in a neverending stream. However, there has been no confirmation on the exact ways the administration will affect open data laws.
The Obama administration has left a legacy of supporting the movement: the creation of data.gov and a series of projects such as 'The Opportunity Project' which boosted the development of apps. In a recent interview with InfoWorld, Alex Howard, deputy director of the Sunlight Foundation ( a nonpartisan transparency organisation) explained:
"It is not hyperbole to say that Mr. Trump was the least transparent candidate in modern history … there's nothing that is particularly positive that would lead one to believe that he's going to adhere to the traditional democratic norms around transparency and accountability unless they're mandated by law" (Source: infoworld.com)
One thing that has become clear in the first week of the Trump administration is that scientists and researchers are concerned. The University of Toronto has recently begun preserving climate change data that are both open and closed in the fear that data may be deleted or altered on environmental and government pages (Source: wired.com).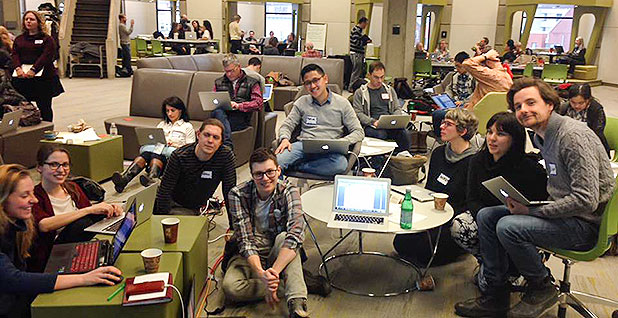 Pictured above: Scientists, researchers and hackers gathered at the University of Toronto to save data (Source: eenews.net)
US open data advocates have however expressed conflicting views. Some influential figures are concerned that data which could potentially contradict business could be forfeit for the sake of profit. Kin lane has voiced the concern that open data could gain a bad reputation if used in poor regulation. Further advocates worry that open data could in fact later be used to misrepresent scientific research and findings.
Although US open data laws face unrest, government agencies have ways of retaliating. For instance the Department of Energy announced that it would not be releasing the names of employees involved in climate change research despite a request from the Trump administration (Source: fivethirtyeight.com).
Despite unrest, there are still incentives for startups utilising open data in the US. As a major driver of innovation, open data can be sourced globally, and is not tied specifically to a country. Gaining business intelligence, streamlining business process, and creating economic opportunity are all options that remain viable in the immediate future.