Every year the city of Oslo hosts the Technology Innovation Festival which is designed to showcase and discuss recent and original contributions to technology, business and networking. It runs from October 17th – 23rd and is regarded as a hub for company networking and engagement, showcasing 75 different events, and 250 speakers featuring experts, researchers, innovators and entrepreneurs.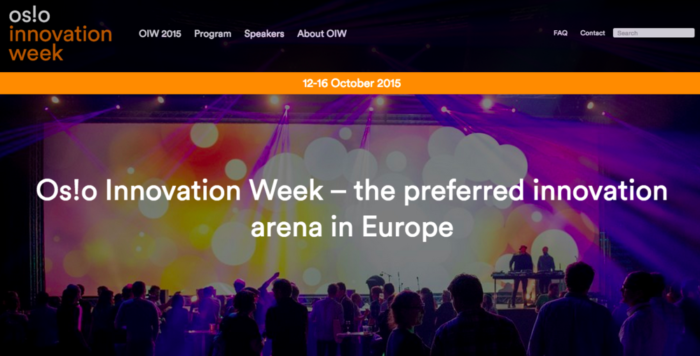 This year the festival saw a new angle on the theme of open data: many showcases, seminars, workshops and discussion groups were heavily centered on the concept. Not only were new, local start-ups beginning to invest in open data, but more experienced companies were offering a means of pointers and lessons for other businesses in order to make the most out of the resource.
Open Health in particular was a topic area that had seen recent developments over the past couple of years, particularly in the UK and Europe. During the Innovation week Oslo showcased some of their own more local advancements in the area which aimed to build partnerships between companies. The finalists of the 2016 Health Challenge presented ideas for new projects focusing on improving the quality of life for cancer patients, where integration of multiple aspects of their life, work in more seamless conjunction. To foster creativity a '100 pitches' competition was run in which companies explained original new ideas competing for prize money. This demonstrated the strength and recent development of business within open health, and ultimately worked as a catalyst to form new ideas in front of the audience themselves.
Similarly, the topic of education has for many years dominated open data applications – with ODINE itself incubating many companies who work with one or more aspect. Developments in EdTech (educational technology) were summarised for Norway specifically, and then related to the wider world. For instance, the company Learning Trends fronted a series of presentations which discussed their business development. In this they have collaborated with educators and industry partners to develop learning spaces, where problems can be worked on together and solutions released to a wider market of 60 Norweigan-based companies who rely on EdTech at their core.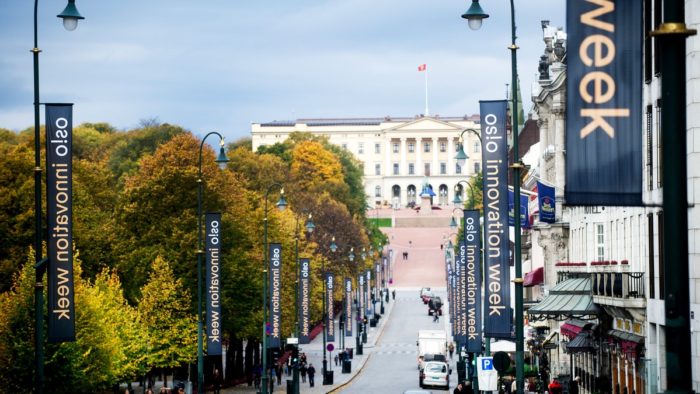 Although the Innovation has a strong focus on business and networking, areas such as the output and effects of research institutes for innovation and growth is a popular area for debate. The question of how cooperation between the corporate sector and research institutes can spark the creation of new products, services and applications has long been a core consideration both for these communities, and a core consideration for the open data community. A series of seminars were presented on strengthening the partnerships and collaboration between institutes and business by both researchers and enterprise representatives, and an emphasis was placed on the need to meet and accelerate current technological trends.
Finally, the theme of Smart Cities was a cornerstone of innovation using open data. As various ODINE companies have demonstrated, for example Green City Solution, smart cities have been heralded as catalysts for innovation not only for an individual's daily life, but also as drivers of new technology. Green architecture in particular was an interesting new branch to this tree, and aligned with Oslo's development as both a green and smart city. Using the case study of Amsterdam, green companies from Oslo presented the potential for the city to expand into green architecture and highlighted the importance of open data as the underpinning resource behind the movement. A summary of Norway's innovation program can be found here detailing core areas for the country's future development in the new few years.
Oslo's Technology Innovation week is packed full of a range of events which take place across the entirety of the city. It fosters collaboration not only between companies and businesses, but between nationalities and boarders also. The themes of this year's Innovation week strongly reflect the power open data has to innovate and create while simultaneously showing us the areas and problems that have yet to be solved or expanded into. A hands-on approach to engaging with technology was a winner with Norway's younger generation of entrepreneurs: VR, technology demonstrations, and interactive gaming were some of the more popular areas of the festival. In addition to a series of seminars highlighting the contribution and encouragement of women working with technology and business.