With ride-sharing and the potential of driverless cars, cities must plan for new transport methods that embrace data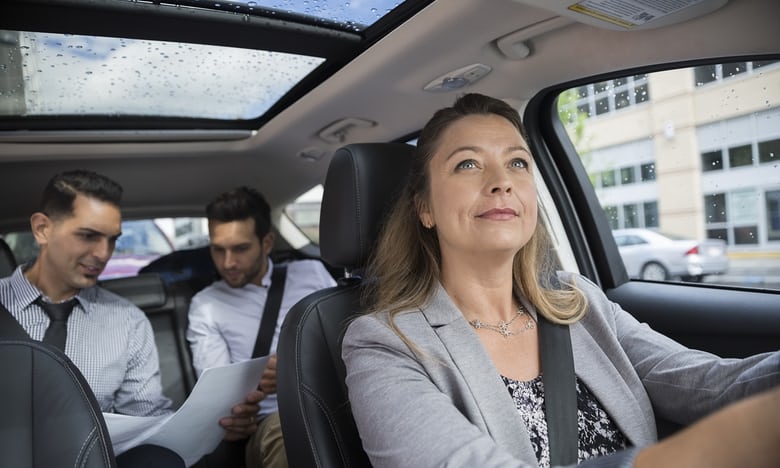 The days of bus routes that go nowhere near your office and lacklustre Sunday train timetables are coming to an end, thanks to a new era of transport. Smartphones have facilitated the modern evolution of travel, with users able to plan and action everyday journeys – incorporating electric hire bikes, car-pooling services and more – through apps.
Advances in data-sharing, smartphones, 4G connectivity, GPS and the Internet of Things (IoT) has led to the explosion of "intelligent mobility", an industry that's predicted to be worth £900bn a year by 2025.
The transport revolution is already taking place
One organisation that's part of this burgeoning sector is FSTR, the creator of a car-sharing service based in Gent, Belgium. Anyone looking to complete a journey can download the Fstr app and be connected with people travelling their way. They can then select a car to jump in and share the ride.
Because Fstr was built using open source software it serves as a data broker, enabling different car-pooling companies to coordinate with each other, a move which founder David De Beukelaer says is essential if this mode of transport is ever going to become a viable alternative to individual car journeys.
He says: "The chance to find a perfect ride for your daily commute these days is really hard. Only by combining all existing rides and a to b data will the market mature into a strong alternative for the private car."
The ultimate aim of the disruptive transport industry is the development of a mobility as a service (MaaS) ecosystem, where all transport services interact seamlessly.
Since 2016, residents in the Finnish capital, Helsinki, have been part of a transport project that aims to eliminate the need for private cars by 2025.
By using an app called Whim, people can access a myriad of transport options – both public and private – and combine them to complete journeys.
The challenges of data-driven transport
For MaaS to become a reality worldwide, data-sharing has to overcome a number of challenges. These range from privacy concerns from citizens who don't want their information shared, a lack of collaboration between disparate organisations, confusion over who owns the data collected, and the problem of sharing data which is in different formats.
A recent report by the Urban Transport Group found that although merging data meant transport users were more fully informed about their travel choices and transport authorities were better able to plan and manage their networks, there were barriers to overcome.
"One misconception is that the main problem is that transport authorities have lots of data and if they would only open it up then transport challenges would melt away," says director Jonathan Bray.
"Opening up data can indeed open up the potential for new and innovative use, but there are also issues around the availability of data and its quality and compatibility in the first place – as well as privacy and trust issues on its use."
Described as a "search engine for the Internet of Things", Thingful is hoping to help solve the issue of data compatibility. The company is part of a consortium led by global infrastructure firm AECOM to develop a pilot scheme that could pave the way for the use of connected and driverless pods on-demand.
In April, the scheme received a cash injection of £4.2m from Innovate UK, the government body responsible for funding innovation, and plans to trial the system at London's Queen Elizabeth Olympic Park.
"With the Internet of Things, data from sensors and services is owned by many different individuals and organisations, uses dozens of different formats and protocols, and is even semantically mixed," says Thingful CEO, Usman Haque.
"Think of Thingful as a set of tools for dealing with messy data from diverse networks, handling discoverability, access entitlements and interoperability."
Shaping future cities
As well as making journeys easier and having a positive environmental impact, data-sharing in the transport industry could also have a huge influence on how future cities are designed. With the fewer roads and parking spaces needed, cities will have more space for open recreation areas, shops and green spaces.
Jarmo Eskelinen, chief innovation and technology officer at Future Cities Catapult, a UK government-supported centre for the advancement of smart cities, says we are now on the cusp of an urban design revolution. "App-based sharing economy services are transforming our mobility already, and the tipping point of driverless cars and MaaS is getting closer."
He adds: "But urban planning needs to start to take this change into account.
"We should design multimodal transport hubs for our cities, taking into account the increasing amount of different vehicles people will be using.
"Network technologies, low-power WANs [wide area network] to wifi and 5G will be critical in managing the systems, and we should take network coverage and reliability seriously."
To read the full story, click here.