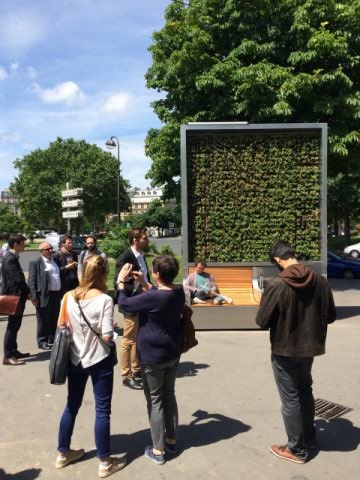 The biotech and IoT start-up Green City Solutions is delighted to announce its cooperation with Cisco and Paris as part of the smart city project. The product, the "CityTree", is a patented free-standing vertical plant display, which has the ability to target and reduce air pollution, such as fine dust and nitrous oxides, 275 times more efficient than a normal urban tree. It combines a special, vertical installed moss culture with an own developed IoT technology for its optimal maintenance. The technology also collects data of the climatic conditions which can be expanded to data of air quality in the cities.
Paris – From December 6-8 the Internet of Things World Forum 2015 took place in Dubai where the six finalists of Cisco's Innovation Grand Challenge had the opportunity to present their projects during a live pitch. Green City Solutions was one of the chosen applicants out of 3,000 projects and honored as one of the three best Internet-of-Things companies in the world. Cisco's goal was to find startups, entrepreneurs and developers with the most advanced digital technologies, products or business models across a variety of categories such as infrastructure, security, data analytic and applications.
Liang Wu, co-founder and CIO who represented Green City Solutions at the Innovation Grand Challenge, says: "We were and still are astonished by the size of Cisco's network and the willingness to connect us to people and share their resources with us. We had Cisco mentors from all over the world who supported us with their advice and together with Cisco we now have formed a partnership for a Smart City project in Paris."
Cisco and City of Paris now equipped the smart city project with three CityTrees. Two smart plant filters are located in a very busy spot in the French capital at Place de la Nation. The third CityTree will be presented at the Viva Technology ("VIVATech") event first and will be moved to the Place de la Nation afterwards as well. The green infrastructure elements are the flagships of the smart city project. With this action the City of Paris and Cisco want to offer a high standard of living for their residents and contribute to the protection of environment and nature.
VIVATech Paris
The VIVA Technology Paris will take place from June 30th to July 2nd and is the largest global tech event dedicated to fostering open-innovation and collaboration between large companies and start-ups. Viva Technology Paris will bring together more than 30,000 visitors, including 5,000 startups, hundreds of top leading investors and the most innovative global companies.
The CityTree will be part of the CISCO – VINCI Energies' Lab which is dedicated to "Urban Transformation & Innovation" and focuses on how smart cities can use digital innovation to adapt and respond to increased population growth and environmental challenges.
Green City Solutions
Dénes Honus, Peter Sänger, Zhengliang Wu and Victor Splittgerber founded Green City Solutions in March 2014 as a CleanTech start-up with the ambition to develop highly efficient and sustainable solutions to improve the environment for the cityscape of tomorrow. The product, CityTree, is a free-standing vertical plant display, which has the ability to target and reduce air pollution such as fine dust and nitrous oxides 275times more efficient than a normal tree. The CityTree combines a special, vertical installed moos culture, with an own developed IoT-Technology for its optimal maintenance.
To ensure its profitability, implementation of visual and digital information on the vertical plant display for marketing campaigns is possible. Integrated benches and the offer of additional services, such as Wi-Fi hotspot or e-bike charging stations extend the functionality of the CityTree. The operational costs of the vertical plant wall are minimized: the photovoltaics on the roof and a water tank inside ensure an automatic irrigation control – the CityTree takes care of the plants by itself.
Since 2014 the start-up has implemented their solution in several European cities with permanent installations in Oslo (Norway), Dresden, Klingenthal (both Germany) and Hong Kong (June 2016). Plenty more locations in Germany, Europe and Asia are planned till end of 2016. The CityTree was also able to be temporarily deployed for a number of conferences, fairs and campaigns in Munich, Berlin, Hannover, Halle, Krefeld, Dresden and Jena through its mobile and freestanding design.
Green City Solutions is an award winning company, which in October 2014 was already declared as one of the four best CleanTech start-ups in Europe by the EU organization Climate-KIC. In September 2015 Green City Solutions has been chosen as one of eight startup companies from across the globe to participate in the first Infiniti Accelerator driven by Nest. The CityTree has also been awarded as the nationwide winner in the category 'Environment' of the 'Germany – Land of Ideas' initiative and a winner of the 'Go Green' category at European Youth Festival in Graz. Furthermore Dénes Honus (CEO) was honored as one of the 'Social Entrepreneurs' in the first ever '30 Under 30 Europe' list.
If you want to find out more about it, contact Tina Hensel: t.hensel@mygcs.de