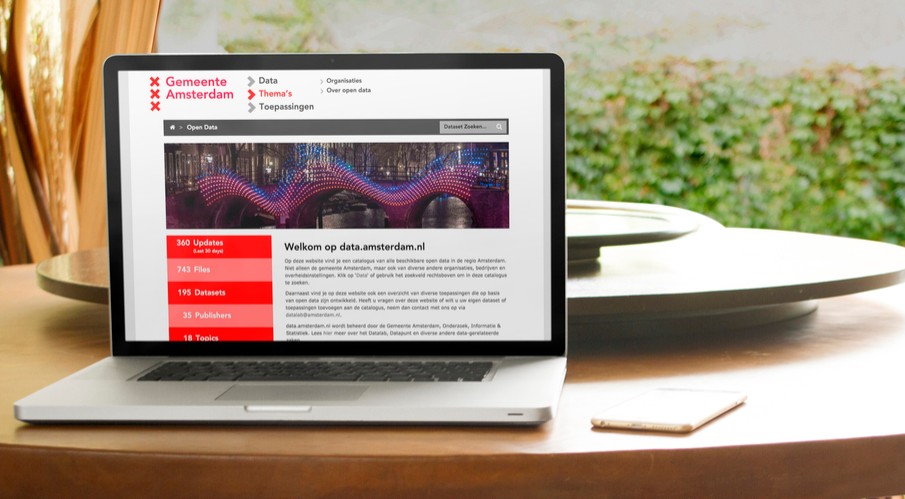 We're proud to introduce data.amsterdam.nl – the City of Amsterdam's new data portal.
It's the latest city to choose DataPress to build and run its publishing platform, and we're thrilled to be working with the pioneering Data Lab team on their technology.
Amsterdam wanted a bespoke platform that matched their visual identity and made use of the latest technologies like CKAN and WordPress. But they're also committed to getting everyone involved in data publishing, so needed an interface that made it easy to publish data, and easy to view it.
"We want to encourage data-driven decision-making in the city"
For Amsterdam's Jasper Soetendal, this starts with "a clear overview of what data is available, for our own colleagues, for our partners and for application developers, researchers and citizens. They can all participate in our common challenge to make the city smarter, more agile, transparent and efficient, using our open data."
DataPress make data publishing easy by bringing together open-source software from around the world. We're the only provider to combine CKAN, the global standard for data cataloguing used by governments around the world, with WordPress, whose easy-to-use admin interface powers 25% of the internet.
This means that DataPress enables both data and content publishing in a single platform, and is mobile-responsive and compatible with all open data standards by default.
We're excited to add Amsterdam to our expanding network of cities, and look forward to helping their open data ecosystem grow.